Venue

Yuzhnoukrainsk — a small monoprofile town of regional importance, which is located on the left bank of the river Southern Bug 125 km away from the regional center and 10 km away from the railway station Yuzhnoukrainska; satellite town of the Yuzhnoukrainska NPP. At the entrance to the town this powerful enterprise meets all the tourists and impressive in its scale and grandeur.
Yuzhnoukrainsk — incredibly cozy town with beautiful scenery and its historical memorable places, where especially important to note the memorial museum in the open, rocky slopes of the coast of the Southern Bug and painting that are carved in them.
Speedcubing championship Yuzhnoukrainsk Open 2015 will take place in the act hall of school #4, which is located by address 16 avenue Lenina.
So, if you will visit competition you not only will gain valuable experience in solving puzzles, but also get to know the fascinating town, and guaranteed will get pleasure from what you will see!
More information can be found on the official website of the town (ukrainian).
Town map
(click for zoom)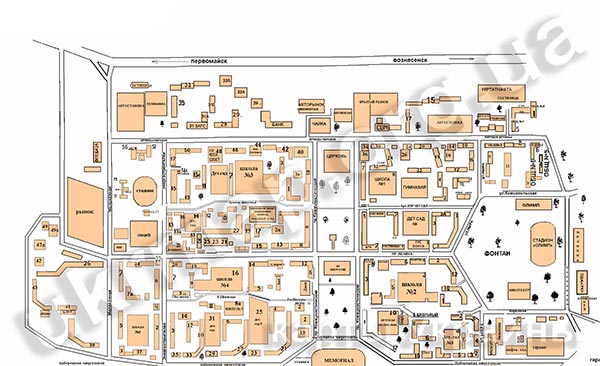 Photogallery